Ancient Agora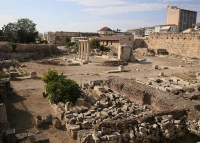 Ancient Agora © psyberartist
The remains of the Agora lie clustered below the Acropolis. As Ancient Athens' commercial and civic centre, it's where the great philosophers Socrates and Plato once walked and talked. In fact, the disgraced Socrates committed suicide in the Agora's southwest corner.
Today, the area is littered with ancient ruins, including the Dionysos Theatre, where Classical Athens' great tragedians put on their work.
Visitors can also see the restored Stoa of Attalos, which served as a law court, municipal office and shopping arcade in 200 BC. The museum on the building's ground floor contains artefacts covering 5,000 years of Athenian history.
Address: Adrianou 24, Athina 105 55
Website: www.agathe.gr/overview/the_archaeological_site.html
Telephone: +30 21 3210185
Opening times: Summer: 8.30am-7.30pm. Winter: 8am-3pm.
Admission: €8 for adults; €4 for those over 65.