Killington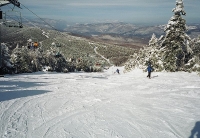 Killington slopes, Vermont © Mark Klapper
With seven peaks and 73 miles (117km) of trails, Killington is the biggest winter sports resort in the eastern United States, earning it the nickname 'the Beast of the East'. Opened in 1958, Killington has five base lodges (all colour coded for convenience) and a huge variety of terrain.
The resort offers skiing opportunities for all skiers, from beginners and intermediates to experts, with ski and snowboarding lessons available for those just starting out. The ski season is long, lasting from about mid-October to late May and early June. One of the world's most extensive snowmaking systems ensures that snow conditions are outstanding.
The terrain includes plenty of cruisers, high-altitude bumps, and a halfpipe to lure snowboarders. The craziest run is the Outer Limits on Bear Mountain and the 10-mile (16km) Juggernaut is the country's longest alpine ski trail. An excellent shuttle system delivers skiers and snowboarders to the various base areas and then back to their cars at the end of the day.
There are a number of shops at Killington, including gift shops and antique shops, and a host of ski equipment shops. There are also shops that sell traditional Vermont specialities including maple syrup and local cheeses. Villages and towns surrounding Killington are home to even more country stores, antique shops and galleries, with the nearby town of Rutland, in particular, offering good shopping opportunities. There are roughly a hundred restaurants in Killington and those willing to travel a bit will find cosy eateries in neighbouring villages as well.
The après-ski activities on offer are extensive and Killington's nightlife is one of the best by American ski resort standards. The Wobbly Barn is an institution in Killington, offering live music, dancing and a popular happy hour, resulting in a rowdy crowd. There are many other pubs, lounges and bars to enjoy.
Activities are abundant on and off the slopes and in all seasons. In winter, snow-mobiling and ice-skating, indoor rock climbing, dog sledding, sleigh rides, spas, snow-shoeing and live music are available. In summer, Killington is still a popular holiday resort with two world-class golf courses, horse riding, mountain biking and hiking available. Rates usually drop drastically in summer.
Website: www.killington.com