West Lake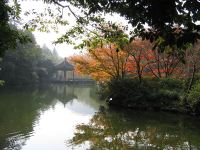 West Lake © Mywood
Famed for its natural beauty, West Lake in Hangzhou is perhaps the landscape most representative of ancient China owing to its immortalisation in art. This is where visitors will recognise the blue waterscapes, bridges, and gardens on many ceramics. The lake itself is sheltered on three sides by mountains where travellers can truly feel that they have escaped the city.
West Lake is a UNESCO World Heritage Site full of historical points of interest, including the various temples, pagodas and museums. Visitors can easily hire a boat to take them to the islands in the centre of the lake, which is a lovely way to view the area. Many visitors hire bicycles and ride all the way around West Lake, a trip of about six miles (10km) depending on the route.
There are so many things to see and do in West Lake that visitors will need at least a day to explore. Famous scenic spots worth seeking out are Su Causeway, Crooked Courtyard, Flower Pond and Broken Bridge â€' considered the most romantic spot in West Lake.