Kolonaki/Lykavittos Hill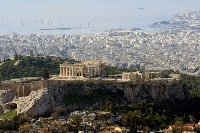 Atop the hill © Rob and Lisa Meehan
Lykavittos Hill juts a steep 984 feet (300m) right up from the centre of the city of Athens, and is a great vantage point from which to take in the scope of the city and its beautiful views. In fact, this is the best spot from which to view the city, in every direction, and a dreamy place to explore and take photographs. It is said that wolves once inhabited the hill, in explanation of how it got its name, because 'lykos' means wolf in Greek. Another popular myth explains that the hill was formed when Athena, the patron of Athens, dropped a rock she was planning to use for the Acropolis. The St. George Chapel and Lykavittos Theatre perch atop the hill, which can be reached by car, cable car or a healthy hike. There is a restaurant and cafe on the summit to refresh exhausted hikers or provide a romantic location for a dinner. The cable car departs every 30 minutes, from the corners of Aristippou and Ploutarchou Streets in Kolonaki. Those who plan to walk up - which is a really wonderful way to experience the hill - should begin their hike on Ploutarchou Street. After walking about half way up the hill hikers will come upon some steps that take them the rest of the way to the top.
Address: Mount Lykavittos, Athens 114 71
Website: www.athensinfoguide.com/wtslykavittos.htm
Opening times: The funicular runs Friday to Wednesday 8:45am till midnight, and Thursday 10:30am till midnight.