N'Djamena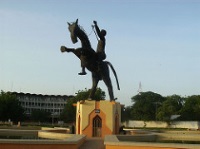 N'Djamena © Ismouz
N'Djamena is the capital of Chad and its largest city. Situated on the Chari River, the port faces Kousseri in northern Cameroon on the opposite bank. The two are connected by a bridge.
From a tourism perspective, N'Djamena's many conflicts, invasions and uprisings have made it an unsafe destination. That said, it does appeal to some travellers. Culture lovers who relish an interesting mix of the contemporary and the traditional may be among them. In N'Djamena's case, bazaars, mud houses and colonial buildings sit alongside modern architecture while farmers cultivate the river banks, giving the urban sprawl an unexpected rural charm.
The city's cathedral, several mosques, and the Chad National Museum are all worth visiting. Central Market (Grand Marche) offers decent shopping.