Zakouma National Park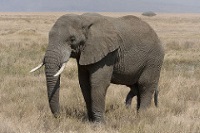 African Bush Elephant © wagon16
Zakouma National Park is located between Sarh and Am Timan in the south of Chad. Surrounded by the vast Bahr Salamat Faunal Reserve, it's one of the most remarkable wildlife strongholds remaining in Central Africa.
Civil war and extensive poaching have ravaged the park's wildlife population. However, the European Union has for many years been collaborating with the Chadian government to restock and conserve animal populations, and attract international visitors. Today, the reserve is one of Central Africa's great success stories, and is home to some of the continent's most iconic wildlife species. Also, its flat, semi-arid terrain is perfect for game viewing.
Zakouma is impossible to visit during the rainy season (June to October), as the roads are impassable and much of the landscape is flooded. The best times to go are in March and April. Access can be difficult at any time of year, so it's best to arrange trips through professional tour operators in N'Djamena.