Pointe Noire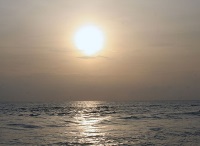 Sunset in Pointe Noire © Ferdinand Reus
Pointe Noire is the second largest city in the Republic of Congo, the commercial hub of the country, and a very popular tourist. It is the centre of the oil industry in the region and a major sea port. Tourists flock to Pointe Noire mainly to enjoy the stretch of beaches and the French atmosphere of the place which hearkens back to the colonial past and is reinvigorated by the large French expat community.
The city is served by the Agostinho Neto International Airport and flying is often the best way to reach Pointe Noire, as the train journey is not considered entirely safe and the roads are sometimes impassable. Hotels in the city are expensive, considering the standard of accommodation, but it is easy to find one right on the beach. Cote Sauvage is one of the best beaches in Pointe Noire, although in fact it is a string of beaches which are picturesque and spacious, lovely for long walks, swimming and surfing. There are several hotels along the beach with volleyball courts, pools, sun loungers and bars, and visitors who are not staying in the hotels can still enjoy the facilities for a small fee. There is a great market at the Port Side Beach where the local artisans gather to sell crafts and souvenirs.
Popular excursions from the city include a trip to the nearby Diosso Gorge, or, for the intrepid, a visit to the Conkouati-Douli National Park, which is a five-hour drive away but provides a remarkable opportunity to see gorillas, chimpanzees and elephants.