Odzala National Park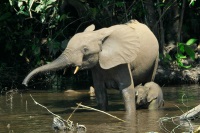 African Forest Elephant © Thomas Breuer
The Odzala-Kokoua National Park is in the northwest of the Republic of Congo, and is one of the most amazing protected wilderness areas in the world. The park was founded in 1935 and remains one of the most important strongholds for forest elephants and western gorilla conservation in Central Africa. The Congo Basin is home to the second largest rainforest in the world and this natural wonder can be experienced on a visit to the park, which includes swathes of mature rainforest, as well as savanna and rivers which are home to a rich biodiversity of flora and fauna.
Odzala-Kokoua is recognised an Important Bird Area by Birdlife International as a result of the wealth of birdlife. The park is also known for its impressive variety of apes, including gorillas, and for its forest elephants. There are also many species of antelope, hyenas, buffalo, hippo and crocodiles, among other things. Unfortunately lions can no longer be found in the region, although they were once common. Elephant poaching is a problem in the park, as it is all over Central Africa, and many other animals are hunted for meat.
There are tour operators offering safaris and treks in the park and guides that will help track animals. Two popular camps in the park are Lango Camp and Ngaga Camp, where visitors can enjoy game drives, boat cruises and kayaking, as well as guided forest walks and gorilla treks. The best time to visit the park is between May and December.
Website: www.african-parks.org/Park_7_31_About+the+Park.html