Kinshasa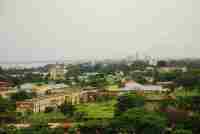 Kinshasa © Irene2005
Gateway to the mighty Congo River, Kinshasa is the capital and largest city of the Democratic Republic of Congo; in fact, it is the third largest city in Africa. Home to about 10 million people, Kinshasa is a sprawling, chaotic city, constantly changing and growing - whatever else it may be, it is never boring.
The city has several wealthy commercial enclaves and upmarket residential areas, as well as three universities, but this relative affluence exists alongside sprawling slums and the levels of poverty, unemployment and crime remain high. Violent crime is distressingly common.
However, the intrepid travellers that tackle this famously challenging city will find that it can be very rewarding: the central market is doing a booming trade, the Matonge quarter has a rollicking nightlife, and there are some worthwhile attractions to be sought out.
Lola ya Bonobo is a sanctuary for orphaned bonobo monkeys, located just outside of Kinshasa at Les Petites Chutes de la Lukaya, where travellers will also find a good restaurant and some lovely lakes for swimming. The Congo River, one of the great watery arteries of the world, is also a big drawcard for the adventurous, where boat rides, river safaris, fishing trips and even white water rafting are options.