Goma and Lake Kivu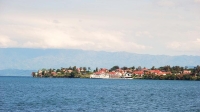 Lake Kivu © Sascha Grabow
Goma is a city in the eastern Democratic Republic of Congo, situated on the northern shore of Lake Kivu, close to the Rwandan border. The city itself has had a tumultuous history and was invaded by rebels as recently as 2012, but has since been liberated. It is not a particularly safe or prosperous city, but Goma does offer some dramatic landscapes.
The city is perilously close to the active Nyiragongo Volcano and the Virunga National Park, home to the endangered mountain gorillas. But beyond this, Goma has little more to offer its visitors - the fun nightlife it was once known for has been dampened by conflict. Regardless, it remains a popular gateway to the wonders of the park and volcanoes, not to mention Lake Kivu.
Lake Kivu is one of the African Great Lakes, and covers a total surface area of 1,040 square miles (2,700 sq km). There are some lovely beaches and plenty of accommodation on the lakeside, particularly near Gisenyi. Sailing and fishing on Lake Kivu is a priceless experience, with a backdrop of mountains, rainforest, traditional fishing villages, and some small islands. Travel in the region is not for the faint of heart but certainly has its rewards.