Sognefjord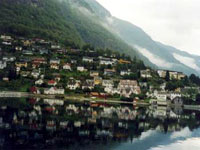 Sognefjord © Judith Duk
Sognefjord is the largest fjord in Norway and the second longest in the world, stretching 127 miles (205km) from the coast to the village of Skjolden. Sheer cliffs rise to heights of 3,300 feet (1,000m) and more above the water.
In addition to some of the most dramatic and magnificent scenery in the world, Sognefjord contains or provides access to many of Norway's most famous tourist attractions. These include three popular national parks, two UNESCO World Heritage Sites, and much more.
Sognefjord offers once-in-a-lifetime experiences for visitors: travellers can see, touch and even walk on one of the largest glaciers in Europe in the Jostedalsbreen National Park; investigate numerous heritage treasures, like the UNESCO-listed Urnes Stave Church in Luster, the oldest church in Norway; marvel at the thundering waterfalls, wild rivers and pristine mountain lakes that feed into the fjord; and explore the steep mountains on either side of Sognefjord, which boast an impressive network of hiking, climbing and skiing trails.
Gorgeous, mostly dry summers and mild winters mean that the fjord can be explored at any time of year, depending on desired activities and adventures. Popular activities in and around Sognefjord include cycling, fishing, hunting, hiking, climbing, kayaking, river rafting, skiing, and canyoning. But those who just want to sit back and enjoy the splendid scenery can take one of the many fjord cruises or even enjoy a train trip.
Website: www.sognefjord.no/en