Dumfries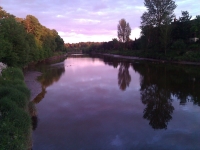 Dumfries © Craig Murphy
Known as the 'Queen of the South' and birthplace of both world-famous poet Robert Burns and James Barrie, author of Peter Pan, the quaint and picturesque town of Dumfries may not be as large as some of its neighbours, but it is warm, welcoming and beautiful. In 1997 Dumfries was voted the best place to live in the UK, and is still considered by many to be just that, due to its mild climate, lovely setting and the exuberant charm of the locals.
Most of the buildings in Dumfries are built with local red sandstone, which comes from Locharbriggs, giving them a unique character and the city a distinctive look and feel. Around town, visitors with an interest in Dumfries' most famous resident, Robert Burns, can visit no end of sites associated with the poet, including Burns' House, Burns' Museum, Burns Street, Burns' Mausoleum and even his regular corner pub, the old Globe Inn.
Other attractions include the Bridge House Museum, the magnificent triangular Caerlaverock Castle and its nature reserve, New Abbey and the Solway Coast. Scotland's seventh largest river, the River Nith, which runs through the centre of Dumfries, creates a picturesque setting and offers fabulous fishing opportunities right on the town's doorstep. Hit the links and enjoy a round of 18 holes on one of 30 of Scotland's finest golf courses, including Thornhill and Stranraer. Alternatively, put those hand-tied flies to good use when casting for brown trout in the nearby Lochmaben, which has a couple of good fishing lochs; or try for salmon, sea trout and trout from the banks of the River Nith. Just out of town, take a walk along the nearby coastline or high above on the cliff tops where waves crash below and the cool North Atlantic sea breeze invigorates you.