Fort William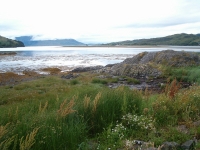 Fort William © Sergio
Sitting on the shores of Loch Linnhe, Fort William is the gateway to some of the Highlands' finest natural attractions and is a natural stop-off for those heading up to the north of Scotland. Ben Nevis is just to the south of the town and at 4406ft (1,344m) is Britain's highest mountain. It is a very popular challenge for walkers, but should not be taken lightly. Although the mountain is not massive by international standards, the walk starts near sea level.
Climbers should also be prepared for the unpredictable Scottish weather that can quickly turn to sub-arctic temperatures at any time of year. The striking scenery of Aviemore, Cairngorm and Glencoe is nearby; in winter, the area opens for skiing for those happy to brave the regular blizzards. Fort William is also a good starting point for the West Highland Way, a footpath that runs along the West coast down to Glasgow. Another outdoor activity popular in the region is mountain biking, and there are some renowned downhill tracks near Fort William.
As the name suggests, Fort William also has a rather tumultuous military history.The town is now a peaceful summer holiday retreat that offers a selection of hotels, cafes, shops and restaurants.