Wynwood Walls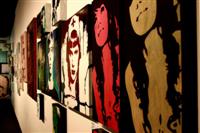 Wynwood Walls ©
Once a run-down, industrial district, Wynwood has been revitalised by a group of artists, who in the early 2000s, wanted to enrich their streets through celebrating the unrecognised talent of graffiti artists. The neighbourhood is now home to numerous galleries, art studios, art complexes, art fairs, museums and collections.
Wynwood Walls is the centre of this urban sprawl, an open air gallery that has spilled out onto its neighbours' walls. Art lovers will revel in the entirely unique and unusual pieces around them, created by international artists, ranging from old school artists to new school innovators. Admission to the 'museum of the streets' is free. Be sure to check out the Wynwood Walls shop, kitchen and bar, or the renown Joey's Cafe when visiting. Walking tours of the area are available twice daily.
Address: 2520 NW 2nd Avenue, Miami
Website: www.thewynwoodwalls.com
Telephone: (305) 531 4411
Opening times: Monday to Thursday 10.30am-11.30pm; Friday to Saturday 10.30am-Midnight; Sunday 10.30am-8pm.
Admission: Free.