Little Havana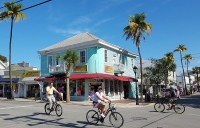 Calle Ocho Plaza © Cristo Vlahos
No place is Miami's Cuban influence more apparent than Little Havana. The historic district just west of Downtown Miami teems with culture, from cigar shops to distinct Latin cocktail bars and cafes. Come to Little Havana for a Cuban coffee with its unique espumita. Visit the Ball and Chain, a legendary jazz club once frequented by Louis Armstrong and Billie Holiday. And enjoy one of Cuba's national pastimes at the Domino Park, where locals have been competitively playing dominos for years.
While the neighbourhood is a worthwhile visit anytime, there are two nights per month that are noteworthy. On the last Friday of each month, the community celebrates Viernes Culturales (Cultural Fridays) by welcoming visitors to enjoy the bars, restaurants, live dance and music, and art galleries until the early hours. On the second Friday of every month, galleries stay open until midnight allowing guests to mingle with artists while admiring their works.
Those holidaying in Miami during March must be sure to make time for the Calle Ocho Festival, a one-day fiesta and the biggest Hispanic bash of the year on the streets of Little Havana.