St Petersburg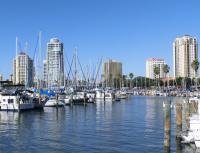 A picturesque peninsula located on Florida's west coast, bordered by the Gulf of Mexico to the west, St Petersburg is the fourth largest city in the state of Florida and is commonly referred to as 'St Pete' by locals. It offers up 35 miles (56km) of beaches on eight major barrier islands and is home to some of America's award winning beaches, such as Caladesi Beach.
With an average of 360 days of sunshine each year, it has earned the nickname 'The Sunshine City' and is a popular tourist and retirement destination. This area is diverse and comprises 26 communities, ranging from the Greek influence in Tarpon Springs to the Scottish heritage of Dunedin. St Petersburg's unique melting pot culture has resulted in some eclectic eateries, museums, galleries, and boutiques, all with their own unique charm.
Some of the many attractions in St Petersburg include the Salvador Dali Museum and the mazes of the Sunken Gardens. The Pier offers a concentration of shops, boutiques, restaurants and bars, a large food court, aquarium, and bayside observation deck.