South Beach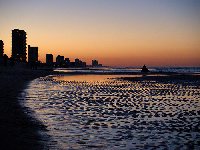 South Beach ©
Once known for its high crime rates and 'cocaine cowboys', South Beach is now celebrated for its thriving nightlife, beautiful beach, and art deco architecture. Miami's most popular beach is a hive of activity, with rented lawn chairs, volleyball games, and night time beach parties. Visitors can also enjoy fine oceanside dining or explore the boutiques showcasing South Beach's flourishing fashion industry.
The eclectic neighbourhood is as diverse as its inhabitants, offering varied entertainment for all. Espanola Way, the historic Spanish Village, with its authentic pink stucco buildings and side walk cafes, is the perfect escape from the bustle of the Washington Avenue. A popular way to explore the area is by bicycle. Visitors can rent bike at the Lincoln Road Mall and buy some South Beach essentials such as jewel studded Havaianas and designer sarongs on the way. Those in search of some evening entertainment have plenty of options; from dance clubs, to cocktail lounges and dive bars.
Address: From South Pointe Park to 23rd Street.
Transport: While South Beach has no direct Metrorail stations, it is connected by numerous Metrobus lines. The South Beach Local bus line connects all major points of South Beach to other bus lines in the city costing $0.25.