Avignon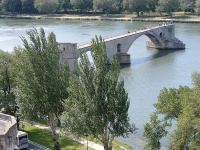 Pont d'Avignon © Donald Albury
Situated on the River Rhone, the historic holiday destination of Avignon is famed for being the Vatican of the 14th century. Six successive Popes resided here from 1309. Avignon is one of very few French cities to have preserved its ramparts. Within these walls, the UNESCO-listed city centre radiates out from the Place de l'Horloge, so named for the fortified tower on the square which now houses a clock and Jacquemert.
The park of Rocher des Doms offers panoramic views out over the city. Dominating the skyline is the enormous Gothic Palais des Papes, the seat of papal power in the 14th century. The Notre-Dame des Doms Cathedral supports a magnificent gold statue of the Virgin Mary. Also visible in the Petit Palais, a former cardinal's residence turned museum. The Pont d'Avignon clings proudly to its reputation as the world's most famous one-fifth-of-a-bridge.
Avignon nurtures a strong culture of art, drama and gastronomy. The covered market of Halles is adorned with a remarkable hanging garden. Visitors here are treated to more than 40 vendors selling specialties from the region, as well as daily cooking demonstrations. Those visiting in July will see the town transformed for the Festival d'Avignon, one of the biggest live performance events in the world.