Aix-en-Provence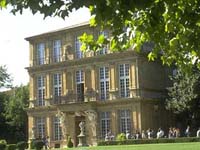 Vendome Pavilion, Aix-en-Provence ©
Aix-en-Provence is the cultural and touristic capital of Provence. This beautiful university town has been an inspiration to many great writers and painters, most famously Paul Cézanne, who was inspired by the Provence countryside to produce his masterpieces, some of which can be seen in his hometown at the Musée Granet, in the Quartier Mazarin.
Aix possesses a wealth of superb architecture that has been carefully preserved and restored. Walking through the Cours Mirabeau and the Rue Gaston de Saporta, visitors can admire the famous fountains, and the private mansions with their sculpted doors, windows, and intricate ironwork on the balconies. On the Place des Martyrs de la Résistance is the ancient Cathedral and in the neighbouring archbishop's palace is the Musée des Tapisseries. A great way to see the city and surrounding countryside is by renting a bicycle.
Shopping is one of the main reasons that tourists flock to Aix-en-Provence. There is a large market every Saturday on Avenue du Cap-Pinede, and smaller ones on Tuesdays and Thursdays. The town centre is quite compact and each square seems to have its own bazaar. There is the flower market at the Place de l'Hotel de Ville, and vegetable and fruit stalls at the nearby Marche des Capucins.
There are many bars and pubs to choose from in town, and a large student population ensures that the nightlife is always lively. Aix-en-Provence has a thriving jazz scene centred on the Hot Brass Jazz Club and the Scat Club.