Cooks' Cottage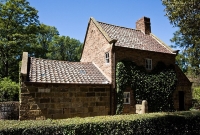 Cook's Cottage, Melbourne © alh1
This cottage was originally built in the village of Great Ayton in Yorkshire, England, in 1755, by James and Grace Cook, the parents of Captain James Cook. When the cottage was offered for sale in 1933 it was bought by a prominent Melbourne businessman, Sir Russell Grimwade. He arranged for it to be taken apart brick by brick and transported via ship and train to Melbourne. In early 1934 the cottage was rebuilt on its present site in Fitzroy Gardens, East Melbourne. Even the ivy that adorns the cottage was cut from the original plants in England. Today it provides visitors with the opportunity to glimpse what life was like in 18th-century England, a slightly surreal experience in modern Australia. The historic building also provides audio-visual exhibitions about Captain Cook's life and adventures.
Address: Fitzroy Gardens, Wellington Parade Street
Transport: Tram 48 or 75 from Flinders Street or Swanson Street to stop 9 on Wellington Parade; or City Circle Tram to Spring Street
Opening times: Open daily from 9am to 5pm (last visitor admitted at 4.45pm)
Admission: A$6.20 (adults), A$3.20 (children aged 5 - 15). Concessions are available.