Trinity College Dublin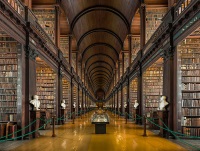 The Long Room © David Iliff
Trinity College is Ireland's oldest university and counts Jonathan Swift, Samuel Beckett and Oscar Wilde, along with many other great thinkers and writers, among its past students. It was founded in 1592 by Queen Elizabeth I. The complex is home to many glorious buildings, beautifully manicured lawns, cobbled squares and the campus of the University of Ireland.
The main attraction for many is the Trinity Library. It houses the celebrated Book of Kells, which dates from the 8th century and is considered to be one of the oldest books in the world. Other manuscripts taken from ancient monasteries are also on display. Note that photography in this gallery is strictly forbidden.
The library is also home to the remarkable Long Room, which will delight the scholarly. The chapel on the grounds is absolutely beautiful and a must-see for anybody interested in ecclesiastical architecture. There are lots of sculptures, statues and monuments dotted around the grounds to investigate. One of the best things to do at Trinity, however, is to simply make like a student and lounge on the lovely green lawns!
Address: College Green Dublin 2, Ireland
Website: www.tcd.ie
Telephone: +353 1 896 1000
Transport: The easiest way to access Trinity College is by bus. There are a number of stops around the campus.
Opening times: The Book of Kells is open Monday to Saturday 8.30am-5pm from May to September, and Sundays 9.30am-5pm. From October to April, it's open Monday to Saturday 9.30am-5p, and Sundays 12pm-4.30pm.
Admission: €11 Adults, concessions available.