Temple Bar District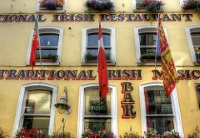 Temple Bar District © psyberartist
The Irish capital is known for its nightlife and many visitors come to Dublin primarily to enjoy the great beer, food, traditional music, and friendly locals that make the pub scene so famous.
This quaint, cobbled district is the hub Dublin's toursit nightlight. There are shops, traditional pubs, theatres, cinemas and trendy clubs laid out on pedestrianised streets. Busking fiddlers, an overwhelming choice of restaurants, and beautifully restored buildings add to the feel of the place and make it worth a visit. The streets and drinking holes are always bustling in Temple Bar and the area has been immortalised by many photographers.
The area is bordered by the Liffey River on one side and Dame Street on the other. The main street running through the area is also called Temple Bar. The weekly Temple Bar Food Market takes place between 10am and 4.30pm on Saturdays at Meeting House Square and this is a must for foodies. There are also several regular book markets in the area, and lots of little gems for clothes shoppers. The area has become rather expensive and some find it too touristy. That said, it's the place to be for the young and fashionable.
.