National Museums of Ireland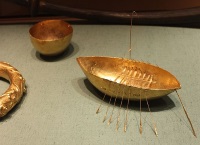 Artefacts from the Iron Age © Ardfern
The National Museum's permanent collection is broken up into four seperate museums, which have different locations in Dublin. The National Museum of Archaeology is on Kildare street, the National Museum of Decorative Arts and History is on Benburb street, the National Museum of Country Life is in Turlough Park, and the National Museum of Natural History is on Merrion street. All four establishments are great.
The Natural History Museum is particularly good for kids, but the most popular and impressive is the Archaeology Museum, where many of the treasures of ancient Ireland can be found. Included in this museum is jewellery dating back to the 8th century BC and medieval antiquities such as the Tara Brooch and the Ardagh Chalice. Also housed here is the 12th-century Cross of Cong, an ornate reliquary of wood, bronze and silver, said to contain a fragment of the True Cross. The museum showcases important exhibitions on Irish history, including Prehistoric Ireland, Viking Ireland and The Road to Independence (1900-1921). There are also sections on Ancient Egypt and Life and Death in the Roman World. This is a truly world-class museum, which brings ancient Irish history to life.
Address: Varied locations. Check website for details.
Website: www.museum.ie
Telephone: +353 1 6777444
Opening times: Tuesday to Saturday 10am-5pm, and Sunday 1pm-5pm. Closed Mondays.
Admission: Free