National Library of Ireland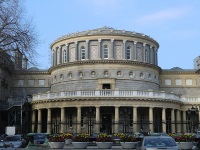 National Library of Ireland © YvonneM
The highlight of this historic library is its great, domed reading room, which has been home to many Irish students, including James Joyce. This is a light-filled, peaceful and inspiring place to work, write or read, and should be on every scholar's bucket list. The reading room is open from 9.30am to 7.45pm between Monday and Wednesday, 9.30am to 4.45pm on Thursday and Friday, and 9.30am to 12.45pm on Saturday. Anybody is allowed to enter provided they respect the strict note about silence.
The library also contains a heraldic museum, which exhibits coats of arms and banners. But, the genealogical office, where staff can help trace any Irish roots, may be of of most interest to tourists. Its consultation service on ancestry is available Monday to Wednesday 9.30am - 5pm, and Thursday to Friday 9.30am - 4.45pm. It's a free service and no appointment is required.
One of the library's most famous and popular attractions is the award-winning Yeats exhibit: The Life and Works of William Butler Yeats. The exhibit is magical and compelling, taking visitors through Yeats' fascinating life. The collection includes rare material, which has been generously donated by Mrs George Yeats, the poet's wife, and Michael Yeats, his son, over several years. The library hosts other wonderful temporary exhibitions but the Yeats exhibit has been on show since 2006. It has become a permanent addition due to popular demand. There is also a cafe on the premises.
Address: 2 Kildare Street
Website: www.nli.ie
Telephone: +353 1 603 0200
Opening times: Monday to Wednesday 9.30am-7.45pm; Thursday and Friday 9.30am-4.45pm; Saturday 9.30am-12.45pm.
Admission: Free