St. Patrick's Cathedral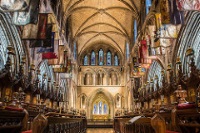 St Patrick's Cathedral © Tony Webster
St Patrick's Cathedral is Ireland's largest church. It's erected on the site where St. Patrick is believed to have baptized his converts to the Christian faith when he visited Dublin. The current building dates back to the 12th century, although it has been restored and altered over the years.
Jonathan Swift was dean of St. Patrick's from 1713 to 1745, during which time he penned Gulliver's Travels. Visitors can still see his tomb and pulpit. There are many tombs and memorials in the cathedral and it is interesting to get a guided tour to learn more about all the history on show. The cathedral has a nice little gift shop and really lovely grounds to enjoy. Marsh's Library is right next to the church. It is worth a visit for anybody interested in old, rare and unusual books. The cathedral still has daily services, which are open to the public.
The church has a particularly impressive Boys Choir. Tourists have to pay a small fee for entry, with all proceeds going towards maintenance of the magnificent building. If, however, visitors want to attend a service to worship, there is no admission fee. The cathedral is sometimes closed for special services.
Address: St Patrick's Close
Website: www.stpatrickscathedral.ie
Telephone: + 353 1 453 9472
Opening times: March to October: Monday to Friday 9am-5pm; Saturday 9am-6pm; Sunday 9am-10.30am, 12.30pm-2.30pm, 4.30pm-6pm. November to February: Monday to Saturday 9am-5pm; Sunday 9am-3pm
Admission: Adults €6.50. Concessions available.