Glendalough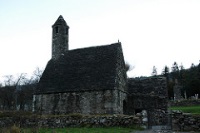 Glendalough © Jeremy Rebelka
Located just south of Dublin, Glendalough is a very popular destination for day-trippers. Although it gets busy, the site has a very tangible spirituality that can be experienced whilst standing amidst the remains of the monastic settlement. The Gaelic name translates to 'valley of the two lakes' and there are beautiful walks around the ruined monastery and along the clear-as-glass lakes.
St Kevin founded the monastery in the 6th century and it became a great European centre for learning. His body lies in the 9th century cathedral. The site is adorned with St Kevin's Cross, carved in about 1150. Other buildings here have survived from the 8th and 12th centuries, the most famous of which is the round tower, standing 112ft (34m) high with a base measuring 52ft (16m) in circumference.
Glendalough is a remarkable place both in its profound history and its natural splendour. Photographers will be in heaven with the scenery and the romantic ruins. All told, the place fires up the imagination.
Address: 18 miles (30km) south of Dublin
Website: www.glendalough.ie
Telephone: +353 404 45325
Opening times: Visitor Centre opening hours: Mid-October to mid-March: 9.30am-5pm Mid-March to Mid October: 9.30am-6pm
Admission: Adults €5.00, Children and Students: €3.00. Concessions available.