Blarney Castle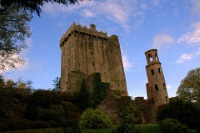 Blarney Castle © Greg Bailey
Built around 1446, Blarney Castle is one of Ireland's oldest and most historic castles. An ancient stronghold of the MacCarthys, Lords of Muskerry, and one of the strongest fortresses in Munster, its walls are 18ft (5m) thick in places. Located on the parapet of the castle is the famous 'Blarney Stone'. According to local legend, after kissing this stone, one will have the gift of eternal eloquence, or 'the gift of the gab'. To do this, visitors must first position themselves on their back, then lean their head back and downwards over the edge of the battlements, with the help of an attendant, in order to kiss the underside of the stone. This is a rather scary process but the fear is part of the thrill.
The grounds of this magnificent ruin are an attraction in themselves, with well-maintained pathways and great natural features that are worth exploring for several hours. There is a Poison Garden full of dangerous and deadly plants, and a magical rock passageway. Visitors should walk down the Witch's Steps backwards for good luck!
Blarney Castle is one of Ireland's most famous attractions and it can get very crowded in the summer season. Guests should visit early to avoid queuing for entry and to kiss the stone. The last admission to the castle and grounds is 30 minutes before closing.
Address: Five miles (8km) from Cork
E-mail: info@blarneycastle.ie
Website: www.blarneycastle.ie
Telephone: +353 21 438 5252
Opening times: Monday to Saturday 9am-7pm (June to August), 9am-6.30pm (May and September), 9am-6pm (March, April and October) 9am to 5pm(November to February). Sundays 9.30am-5.30pm (until sunset in winter).
Admission: €18 for adults, €8 for children (8-16 years, under 8s free). Concessions available.