The Colosseum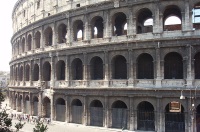 Colosseum Exterior © Paul Zangaro
Known to be one of the most impressive buildings of the Roman Empire, the Colosseum was the largest structure of its era. Once holding crowds of 55,000 spectators entering via 80 entrances, this enduring symbol of ancient Rome tenaciously clings to its foundations as the site of former gladiatorial conquests and brutal public entertainment. Its architecture boasts an impressive array of Doric, Ionic and Corinthian columns and an underground network of cells, corridors and elevators used to transport animals from their cages to the arena. The magnificence of the original structure has been eroded through the years by pillaging and earthquakes so that only a skeletal framework remains, but it remains truly unforgettable and awe-inspiring.
Address: Piazza del Colosseo
Website: www.the-colosseum.net/around/visit.htm
Opening times: 9am to 6.15pm in summer, and from 9am to 4.30pm in winter.
Admission: €12 (adults); €7 (reduced fee)