Pantheon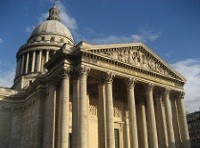 The Pantheon © Nichole Brown
The Pantheon is one of the world's most inspiring architectural designs. Almost two thousand years after it was built, the Pantheon's is still the world's largest unreinforced concrete dome. Built as a temple to the Roman gods by Hadrian in 120 AD, it's perfectly proportioned floating dome rests seductively on sturdy marble columns. The only light source is the central oculus, which was used by the Romans to measure time, and the dates of equinoxes and solstices. The sunlight pouring through the oculus and illuminating the floor in the otherwise dark church is quite a sight. The south transept houses the Carafa Chapel and the tomb of Fra Angelico rests under the left side of the altar.
Address: Piazza della Rotonda
Website: www.pantheon-rome.com/opening-hours/
Telephone: +39 06 6830 0230
Opening times: Open Monday to Saturday, from 8:30am to 7:30pm; on Sundays from about 9am to 6pm. Closed New Year's Day, 1 May and Christmas Day.
Admission: Free