Santa Croce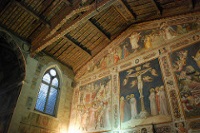 Sante Croce © fry_theonly
Santa Croce, a magnificent Gothic church built in 1294, contains the tombs of many celebrated Florentines, such as Michelangelo, Galileo and Machiavelli, as well as the famous composer Rossini. The interior is graced by the radiant frescoes of Giotto and his pupil Taddeo Gaddi, and integrated into the cloister next to the church is Brunelleschi's Pazzi Chapel. The large square in front of the church is a great meeting place and there are some lovely restaurants and cafes about for refreshments.
Address: Piazza Santa Croce, 16
Website: www.santacroceopera.it/it/default.aspx
Opening times: Open Monday to Saturday from 9.30am to 5.30pm, and on Sundays from 2pm to 5.30pm.
Admission: €8. Concessions are available