Casa Rosada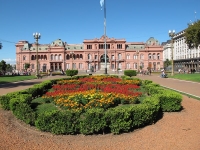 Casa Rosada © Andrzej OtrÄ™bski
The famous Casa Rosada is iconic, rousing images of fiery political rallies or the tragic romance of Eva Peron. The Italianate-style mansion is front by palm trees and fountains, its edifice painted pink when it was converted into a presidential palace. The building has since been declared a National Historic Monument of Argentina. Today, the building houses a small basement museum, and each evening, a small platoon of mounted grenadiers emerges from the guardhouse to lower the flag on the plaza, adding a touch of pomp and ceremony to the striking building.
Address: Hipolito Yrigoyen 219, Plaza de Mayo
Telephone: +54 11 4344 3600
Opening times: Museum: Monday to Friday 10am-6pm, Sundays 2pm-6pm. Guided tours are available.
Admission: Free