Old Melbourne Gaol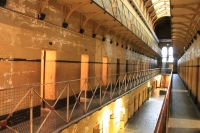 Old Melbourne Gaol © Mertie
Victoria's oldest surviving remand prison gives visitors a chilling insight into prison life in a model 19th-century gaol. Behind the thick and forbidding walls Ned Kelly, the infamous bushranger, was one of 135 men and women who were hanged on the gaol's scaffold. Visitors can view the Hangman's Box, the Particulars of Execution book, and other exhibits relating to this grim period of Victoria's history, as well as the death masks used in the study of phrenology to predict criminal behaviour. The Women in Prison exhibition reveals the fascinating stories of the crimes committed by the female inmates. There are free performances every Saturday of The Real Ned Kelly Story - Such is Life, and night performances on Monday, Wednesday, Friday and Saturday with hangman 'Michael Gately' as he recounts stories of the gaol by candlelight (not for the faint hearted or children under 12 years of age).
Address: Russell Street (between Victoria and La Trobe Street)
Website: www.oldmelbournegaol.com.au
Telephone: (0)3 8663 7228
Transport: City Circle Tram No. 24, Stop No. 7 or train to Melbourne Central Station (2 min walk)
Opening times: Open daily, from 9.30am to 5pm. Closed on Good Friday and Christmas Day.
Admission: A$25 (adults), A$13.50 (children aged 5 - 15). Concessions are available.