Summer Palace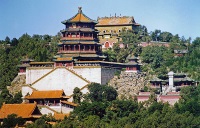 Summer Palace © Andre Holdrinet
The magnificent Summer Palace was built in 1750 by the Emperor Qianlong, and continued to be an imperial residence until the Empress Dowager Cixi died in 1908. It is the largest and most well-preserved royal park in China, and has been declared a UNESCO World Heritage Site.
The palace and stunning gardens are open to visitors, who pass through a grand courtyard into the Hall of Benevolent Longevity, the Hall of Jade Ripples and the Hall of Joyful Longevity. Empress Cixi's private theatre in the Garden of Moral Harmony is a must see, as is the long corridor that skirts Kunming Lake's northern shoreline to reach the marble boat, an elaborate two-storey structure of finely carved stone and stained glass.
All in all, the Summer Palace boasts not only famously beautiful grounds but also 3,000 man-made ancient structures, including mansions, temples, pavilions, bridges and towers. Once a place for weary royals to relax, the Summer Palace is now a sanctuary for travellers and, although it can get crowded, it always seems calmer and cooler than the rest of the city.
Website: www.summerpalace-china.com
Telephone: (0)10 6288 1144
Opening times: Daily 7am - 5pm (November to March); 6.30am - 6pm (April to October)
Admission: CNY 20 (November to March), CNY 30 (April to October)