School of St Roch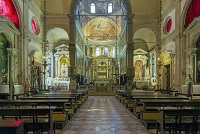 School of St Roch Interior © Didier Descouens
San Rocco is known for the canvases of Jacopo Tintoretto adorning its interior. Tintoretto was commissioned to decorate the School in 1564 and dedicated 23 years to this task. The paintings are arranged in chronological order that can be followed by beginning on the second floor in the Sala dell'Albergo. Notable among his works are the scenes from the Life of the Virgin and the Crucifixion. The interior is ornate and quite overwhelming in its artistry and you would be hard put to find somebody who doesn't rave about the experience of exploring San Rocco.
Address: Campo San Rocco, San Polo 3054
Website: www.scuolagrandesanrocco.it
Opening times: 9.30am to 5.30pm, except on New Year's Day, Easter and Christmas Day
Admission: €10 (with concessions available). Entry to the church is free.