Gallerie Accademia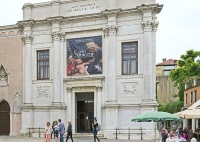 Gallerie Accademia © Didier Descouens
This famous gallery was established in 1807 to house the artwork removed from Venetian churches and public buildings on Napoleon's orders. It's housed in three old religious buildings: the Scuola Grande di Santa Maria della Carita, built in 1344; the Church of the Carita; and the Convento della Carita, a monastery from 1561. The gallery's display follows the progression of Venetian art from the 14th to 18th centuries. Notable works in the gallery include Paolo Veneziano's Coronation of Mary, Carpaccio's Crucifixion and Apotheosis, Giovanni Bellini's Madonna with Child between Saints Catherine and Mary Magdalene, Giorgione's Tempest, Lorenzo Lotto's Portrait of a Young Gentleman in His Studio, Paolo Veronese's Feast in the House of Levi, and Tintoretto's Theft of St Mark's Body and Crucifixion.
Address: Dorsoduro 1055
Website: www.gallerieaccademia.org
Telephone: +39 041 5200 345
Opening times: Mondays 8.15am to 2pm. Tuesday to Sunday 8.15am to 7.15pm.
Admission: €12, concessions available.