Palace of the Grandmaster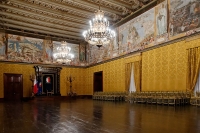 Throne Room © Marie-Lan Nguyen
The Grandmaster's Palace, built around 1571, today serves as the office of the President and seat of the Maltese Parliament. When parliament is not in session, the palace and its State Rooms are open to the public.
The palace is a treasure trove of art, from the unique collection of Gobelin Tapestries to frescoes depicting the Great Siege of 1565 by Perez d'Aleccio that cover the walls of the Halls of St Michael and St George.
The Knights decorated the palace richly and elaborately, conscious of showing off their wealth and influence. For visitors, exploring splendid chambers like the Hall of the Supreme Council of the Knights is thrilling.
Visitors can also view the Armoury and state apartments adorned with friezes depicting the history of the Order of the Knights of St John. The Armoury is perhaps the greatest attraction of the palace and it boasts one of the largest collections of its kind in the world.
Malta has a tumultuous history and the Armoury holds the assorted weaponry of centuries of invasions, sieges, and battles, making it a paradise for military history buffs. Guided tours are available and wonderful audio guides offer comprehensive commentary.