National Museum of Archaeology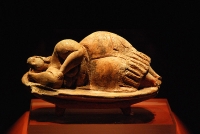 Sleeping Lady at the National Museum of Archaeology © Jvdc
The National Museum of Archaeology in Valletta houses one of the inns of the Knights of St John: the Auburge de Provence. The establishment's focus on Malta's prehistory includes displays such as the reconstruction of prehistoric remains found at the Hypogeum.
Pottery, sculptures, statuettes, stone tools, and jewellery from the prehistoric, megalithic, and temple-building periods feature. Punic and Roman tomb furniture are also present, with all exhibits sourced from excavations across the Maltese islands. The age of some artefacts is staggering.
Only those interested in archaeology will fully appreciate the wonders on offer, its treasures wasted on those easily bored by ancient histories and cultures. Young children especially should give it a skip. The collection is well-maintained and labelled, with exhibitions in chronological order.
Website: heritagemalta.org/museums-sites/national-museum-of-archaeology