Cabildo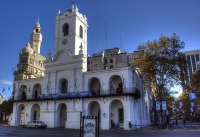 El Cabildo © HalloweenHJB
Sitting opposite the Casa Rosada on the Plaza de Mayo, the Cabildo is an old colonial building fronted by rows of breathtaking arches. Construction began in 1610 and ended in 1894, with the interior housing museums dedicated to its illustrious past and boasting relics, religious icons and paintings by Enrique Pellegrini. The changing of the guard is a popular attraction, with the troops being members of the revered Regimiento de Patricios and dressed in traditional uniforms unchanged for nearly 200 years. Lastly, craft markets are hosted on the back patio on Thursdays and Fridays, from 11am to 6pm.
Address: Calle Bolivar 65
Telephone: +54 11 4342 6729
Opening times: Tuesday to Friday 10am-5pm, Saturday and Sunday 10am-6pm.