Templo Mayor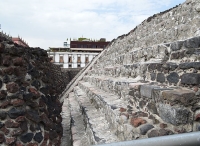 Templo Mayor © AlejandroLinaresGarcia
Templo Mayor was the principal temple of the Aztecs, believed to mark the centre of the universe. It was part of the sacred complex of the ancient city of Tenochtitlan, and today it has been excavated to show the multiple layers of construction. The temple was first built in 1375 and enlarged several times, each rebuilding accompanied by a bloody sacrifice of captured warriors to rededicate the sacred area. Within the site is the excellent Museo del Templo Mayor, displaying artefacts from the original site including a great wheel-like stone carving of the Aztec goddess of the moon, Coyilxauhqui.
Website: www.templomayor.inah.gob.mx/english
Telephone: +52 55 4040 5600
Opening times: Tuesday to Sunday 9am to 5pm.
Admission: MXN 64