Teotihuacan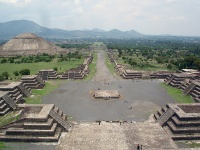 View from the Pyramide de la Luna in Teotihuacan © Jackhynes
Situated 31 miles (50km) from Mexico City, the UNESCO World Heritage Site of Teotihuacan is the country's largest ancient city, dating from around 300 to 600 BC. Legend has it the Aztecs found the abandoned city, recognising signs of its previous magnificence and naming it Teotihuacan (Place of the Gods). The central thoroughfare of Teotihuacan is the Avenue of the Dead, a 1,3 mile (2km) stretch connecting the three main attractions. The Pyramid of the Sun is the third largest in the world, a huge red painted structure over a cave with spectacular views from the top. The smaller, more graceful Pyramid of the Moon contains an altar believed to have been used for religious dancing. The Citadel is a large square complex that was once the residence of the city's ruler. Within the walls is its main feature, the Templo de Quetzalcoatl.
Telephone: +52 59 4956 0276/0052
Opening times: Tuesday to Sunday 9am—5pm.