Djemaa el-Fna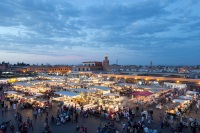 Djemaa el-Fna, Marrakech © Boris Macek
What it lacks in beauty, the large town square of Marrakech, Djemaa el-Fna (Square of the Dead), makes up for with a pulsating liveliness that belies its name.
Every day the square is a colourful circus of performing artists including snake charmers, musicians, storytellers and healers who vie with each other to be noticed by the milling crowds. Every evening food stalls take over and the competition is fierce among them for the passing trade, with everything from boiled snails and sheep's heads to thick vegetable soup, kebabs or fresh salads on offer. Freshly squeezed orange juice stalls stand side by side encircling the market and offer a refreshing drink both day and night.
The square is a fascinating place to be a while relaxing at of the surrounding cafes and watching the swirling parade. The square is also the gateway to the souks (bazaars) of Marrakech, tucked away in the surrounding labyrinth of narrow streets and alleys. It is easy to lose your way, but well worth exploring. Bargain for anything from water mugs and dates to famous Moroccan carpets. Mercifully, the souks are also well shaded from the searing Moroccan sun and offer respite from the heat.
Address: Derb Chtouka, Marrakesh 40008, Morocco.
E-mail: contact@jemaa-el-fna.com
Website: http://www.jemaa-el-fna.com/en/
Telephone: +212 648 284465
Transport: The square is most easily accessible by foot and taxi.
Opening times: Open 24 hours a day.