Oukaimeden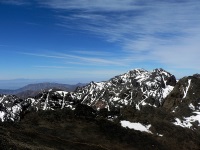 The Atlas Mountains, Morocco © Kobersky
A ski resort in the desert! Thick snow envelops the Jebal Oukaimeden mountain peak during the winter months (usually January and February), just a 46 mile (74km) drive from Marrakech. The town of Oukaimeden, which can be reached by taxi or car, is well-equipped with the basics for skiers, with restaurants, ski equipment to rent, comfortable hotels set in lush greenery and backed by blue mountains, as well as ski schools for beginners.
Skiers can ascend the mountain by donkey or camel, but there are also some modern ski lifts. Five ski runs traverse down from the dizzying heights of Jebel Attar and there are nursery slopes and some intermediate runs. The ski equipment for rent can be somewhat outdated and visitors should be wary of renting from unofficial shops. At the top of the chair lift young men typically vie for jobs as guides down the mountain and many visitors choose to hire them for at least one run because the routes are difficult to discern.
Oukaimeden is one of the best ski resorts on the African continent, although of course there is not much competition. The resort is tiny and the facilities very basic compared to European equivalents, but there is a lot of fun to be had at Oukaimeden. The resort is notably Moroccan in style and this gives it an eccentric feel for those used to European ski resorts. A lot of development is due to begin at Oukaimeden, which will no doubt make it more typical, and more convenient.