The Kon-Tiki Museum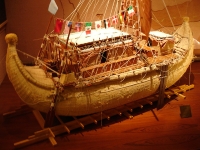 Kon-Tiki Museum, Oslo © Jim G
Situated on the Bygdoy Peninsula, the Kon-Tiki Museum contains the iconic balsawood raft, the Kon-Tiki, on which Thor Heyerdahl made his famous journey across the Pacific in 1947 to prove the theory that the first Polynesian settlers could have sailed the 4,300 miles (6,923km) between Peru and Polynesia.
The museum also contains the original reed raft, Ra II, on which Heyerdahl sailed across the Atlantic in 1970. Besides the rafts, there is a huge stuffed whale shark, artefacts from his expeditions, and exhibits of his visits to Easter Island, as well as an intriguing collection of archaeological finds from Easter Island, Galapagos, East Polynesia, and Peru.
For travellers interested in the seafaring adventures of Norwegian explorers, this museum is a gem: seeing the craft used to make the famous expeditions is thrilling and the voyages can be tracked through news articles and other memorabilia.
It is a speciality museum and may not appeal to everybody visiting Oslo. But for those who enjoy such things, the Kon-Tiki is an informative and interesting museum that generally scores high with tourists. The museum is located just opposite the Fram Polar Ship Museum, and the two attractions are best combined. Entry to the Kon-Tiki Museum is free with the Oslo Pass.
Website: www.kon-tiki.no/