The Viking Ships Museum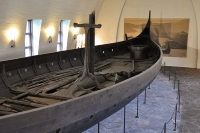 The Gokstad Ship © Helen Simonsson
Found on the Bygdoy Peninsula, the Viking Ship Museum houses three 9th-century Viking ships that were excavated from ritual burial mounds in the south of Norway. Their excellent condition is due to the clay in which they were preserved. Viking ships were used as tombs for royalty who were buried with everything they might need in their life after death.
The biggest and best preserved of the ships is the Gokstad, and the finest is the Oseberg, a richly ornamented dragon ship with an intricately carved animal head post, that was the burial chamber of a Viking queen. The elegantly carved sleigh used by the Viking royalty and a hoard of treasure was found on the buried ship and is displayed at the back of the museum.
Raised platforms allow visitors to view the inside of the ships' hulls. The museum is small and not interactive, but the ships are fascinating and make an impact the moment you see them. The museum is considered a must in Oslo and a visit is one of the best ways to get a taste of the intriguing Viking culture.
Most of the displays have some explanation in English, but there is also free wifi in the museum which can be used to get additional information in English. Entrance to the museum is free with the Oslo Pass.