Spanish Riding School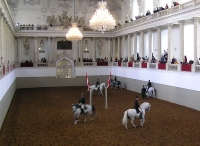 Spanish Riding School © sparre
The Spanish Riding School of Vienna is one of the oldest surviving riding schools in the world where classic dressage is still practised in its purest form. This institute was founded in 1572 and named for the Lipizzaner horses, which are of Spanish origin. The Imperial Court Stud was originally situated near the village of Lipizza, hence the name of the horses. But since the collapse of the Danube Monarchy in 1920, they have been bred at the Federal Stud in Styria.
The horses perform their tricks in the Winter Riding School, which was commissioned by Emperor Karl VI. Performances take place between February and June, and September and December. But they are in high demand and booked up months in advance (details on their website). The easiest way to see the horses is during their training sessions. Tickets are only available at the door and cannot be booked in advance. Situated in the stables is the Lipizzaner Museum, which displays the history of the school.
Address: Michaelerplatz 1
Website: www.spanische-reitschule.com
Telephone: +43 1 533 90 310
Transport: U-Bahn to Herrengasse, or tram D, J, 1 or 2 to Burgring
Opening times: Daily 9am to 4pm. Performances Fridays 9am to 7pm. Check the official website to confirm show times.
Admission: Prices vary according to season, attraction and seating options; see website for details.