La Recoleta Cemetery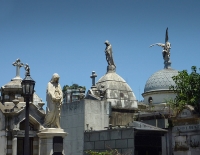 La Recoleta Cemetery © RAYANDBEE
An unlikely tourist attraction, La Recoleta Cemetery is well worth visiting to see its magnificent display of monuments and the ostentatious tombs of Argentina's rich and famous. The cemetery is the second largest in the world, covering more than five hectares and filled with more than 4,700 vaults. Each vault has the family name carved over its entrance, while a collection of brass plaques next to the entrance displays the names of all the family members buried inside the vault. One of the more modest but most celebrated is the grave of Eva Peron where thousands leave flowers. Another famous cemetery inhabitant is the supposed daughter of Earl Alexander Walewski, Isabel, who died in Buenos Aires when just a baby. The superstitious say that on some nights, you can hear the baby crying from her godmother's arms.
Address: Calle Junín, Plaza Francesa
Opening times: Open daily. Guided tours are available.
Admission: Free