Schönbrunn Palace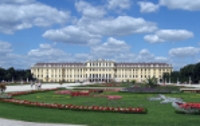 Schonbrunn Palace, Vienna © Gveret Tered
The magnificent Schönbrunn Palace was used as the summer residence of the Habsburgs from the 18th century onwards. Set among superb gardens, this vast symmetrical structure is everything you would imagine an imperial palace to be. A tour of the palace offers visitors the chance to view the superb assortment of Baroque and Rococo State Rooms and to admire the famous ceiling frescoes of the Great Gallery and the Hall of Mirrors where Mozart once played. The vast gardens are popular with locals and tourists alike, and include a zoo, a maze, the Privy garden and the Gloriette with a viewing terrace. Also within the grounds, the Orangery hosts classical concerts during the summer season.
Address: Schönbrunner Schloss Strasse 13
Website: www.schoenbrunn.at
Telephone: +43 1 811 130
Transport: U4 to Schönbrunn station, trams 10 or 60, Bus 10A
Opening times: 8.30am - 5.30pm April to June, 8.30am - 6.30pm July to August, 8.30am - 5.30pm September to November, and 8.30am - 5pm November to March.
Admission: Grand Tour with audio guide: €17.50 (adults). Various other tour options available.