Belvedere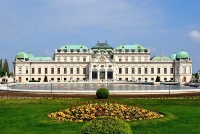 Belvedere Palace © Ignaz Wiradi
The Belvedere consists of two splendid rococo mansions, designed in the early 18th century, which face each other across formal, sloping grounds offering excellent views over the city. From the outside, it is Vienna's finest palace complex, built by Prince Eugène of Savoy, the famous general who saved Vienna from the advance of the Ottoman Empire.
The museums in the two palaces house some of Vienna's most renowned art galleries, offering excellent examples of Austrian art from the middle ages to the present day. Their displays include an unrivalled collection of paintings by Klimt, as well as famous works by Schiele, Kokoschka, Renoir, and Monet. The Medieval and Baroque works are presented in the Lower Palace where many rooms have been preserved in their original state.
Address: 27 Prinz Eugen Street
Website: www.belvedere.at
Telephone: +43 1795 570
Transport: Upper Belvedere: Tram D to Schloss Belvedere or Trams 18 or 0 to Südbahnhof; bus 13A or 69A to Südbahnhof
Opening times: Daily 10am to 6pm. Lower Belvedere and the Orangery open until 9pm Fridays. Upper Belvedere opens at 9am daily.
Admission: €20 for a combination ticket, giving access to upper and lower Belvedere (adult), children free. Concessions available.