South African Museum and Planetarium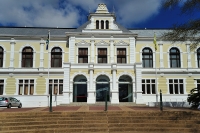 The South African Museum, Cape Town © Josephou
The imposing South African Museum is dedicated to natural history and the human sciences, and contains a huge variety of fascinating exhibits. Among other things, visitors will encounter entire chunks of caves bearing rock art, and traditional arts and crafts from several African tribes. Astoundingly, the museum houses more than one and a half million specimens of scientific importance, including fossils that are almost 700 million years old. The vastness of the collection means that for every object on display, thousands more are kept in storage. The natural history exhibits are full of mounted mammals, dioramas of prehistoric reptiles, and a collection of whale skeletons, with haunting whale song echoing in the background. Established in 1825, the South African Museum is still very old-fashioned in some ways. Nevertheless, it is well worth a visit for its impressive collection. Alongside the museum is the Planetarium, which has a changing programme of thematic shows involving the southern constellations. Booking ahead is necessary for Planetarium shows.
These two attractions are based in the lovely Company Gardens of Cape Town, which are also worth exploring.
Address: 25 Queen Victoria Street, Gardens
Website: www.iziko.org.za
Opening times: Daily 10am to 5pm (museum).