Cape Town Beaches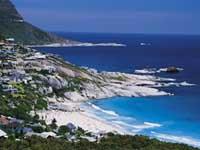 Llandudno © Maxime Guilbot
Cape Town has some truly gorgeous beaches, but the most glamorous are on the Atlantic Ocean, where the water is unbelievably cold. Even the locals tend to keep their swims short. The most popular choices include Camps Bay Beach. Locals and tourists pack its long, wide stretch of silver sand and enjoy the trendy bars and restaurants nearby. Another favourite is Clifton, where four beaches are situated beneath the exclusive houses and apartments set into the cliff. The beaches are named First, Second, Third and Fourth Beach. First Beach is the largest and most popular among families, while Second Beach is preferred by the hip crowd. Third and Fourth Beach are usually frequented by locals. The small suburb of Llandudno lies 15 minutes south of Camps Bay, and is home to one of the most scenic beaches in South Africa. It's popular for sundowners on the rocks or long days in the sun.
Despite its popularity, Llandudno is seldom too crowded. This is partly because there are no bars or restaurants there. The nearest is in Hout Bay, which is another 10 minutes south. Hout Bay's long beach is popular with families and walkers but is not as stunning as its neighbours. False Bay is also blessed with lovely beaches and these tend to be more family-friendly and less trendy. The most popular beach for beginner surfers in Cape Town is Muizenberg, which has plenty of surf schools. The Muizenberg and Fish Hoek beaches of False Bay are also wonderful for swimming, as the water in False Bay is much warmer than on the Atlantic side. For long walks and horse riding, the lovely Noordhoek beach is ideal.
To see Cape Town's penguin colony, tourists should visit the picturesque Boulders Beach in Simonstown, where the loveable birds suntan and swim. Sharks are a problem in Cape Town, particularly in False Bay, and many beaches have shark spotters on duty. Visitors should pay close attention to the flags on the beach, as they signal whether it is safe to swim. A siren will go off to warn swimmers in the water if a shark is spotted nearby.